I-MED Online 2.0
I-MED Online 2.0 is a new, improved patient image and reporting platform that makes it easier and faster to access the information you need, without having to download software or change viewing modes.
I-MED Online 2.0:
Image and report viewing on one page

The desktop version allows you to view images and report simultaneously, avoiding the need to switch between screens.

No need to download software

Once you've created an account, no other software is needed.

Improved viewing speeds

With the new 2.0, viewing images and reports is much quicker.

Filter and customise

You can choose how to arrange your 'Results' page to your own preference, e.g. alphabetical, date, modality etc.

'Breaking glass' now much simpler

I-MED Online 2.0 has a new, streamlined process when you need to access images and reports of patients other than your own.

Secure search and storage

I-MED Online 2.0 complies with Australian privacy and data storage legislation. It allows you to browse images and reports within a secure network with auditing and tracking ability.

I-MED support is at hand

With dedicated Chat support and phone and email support as well, you'll have all the support you need to get set up with I-MED Online 2.0.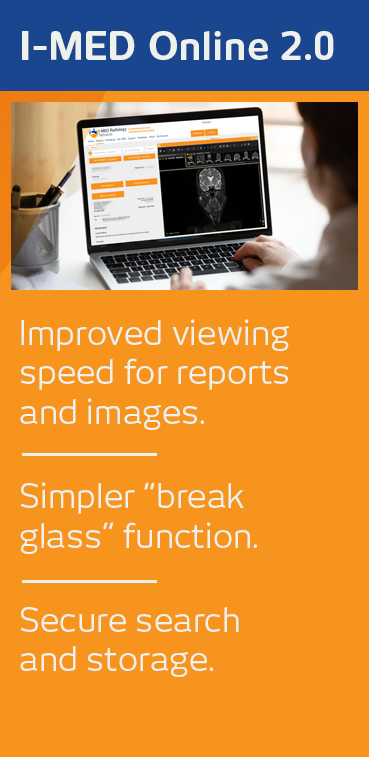 I-MED Online 2.0 - Your questions answered